It's no secret that thousands of advertising options are available for business owners. Some work great; others fall short of expectations. Pay-per-click advertising (PPC) has various options that can work well with any business.
Unlike traditional advertising platforms, you only pay for successful actions instead of impressions. PPC advertising is a cost-effective model, no matter how big or small your ad spend budget is.
That's not all.
Targeted Ads for Your Audience
PPC ads offer an unmatched level of targeting. Platforms that offer pay-per-click advertising tend to match your advertisements with the intended target market. This level of targeting further increases the cost-effectiveness of your ads compared to traditional advertising.
If you are unsure of the power of PPC, let us prove it to you. Paid search and paid social platforms offer unmatched monitoring levels. You can track, analyze, and optimize PPC ads faster than any other type of advertisement.
So how can PPC ads offer so much value?
Here's how they work.
How Does Pay-Per-Click Advertising Work?
Each advertising platform has a unique system for pricing and distributing ad space. Most of these platforms mimic Google's auction system.
Google's Pay-Per-Click Model
Google offers ad space for each keyword a user searches in the form of queries. Relevant keywords help users receive good advertisements for their searches.
Each keyword comes at different price points based on the total number of searches. Additionally, Google will determine an "ad rank" for your proposed PPC ads. Google calculates ad rank based on your ad's quality score and bid price. They measure quality scores using relevance and click-through rate.
Google's auction system may seem daunting between quality scores, bidding prices, and ad rank. However, as long as you create quality advertisements relevant to specific keywords, you should be able to purchase ad space for a reasonable cost.
Social Media Pay-Per-Click Model
Social platforms like Facebook use a similar pay-per-click model with an auction system for ad space. The only difference is their use of target audiences instead of keywords.
You'll likely end up paying less for Facebook ads because social media platforms lack the purchasing intent that comes with search platforms. To compensate, Facebook offers target audience optimization that pairs your ads with users that are far more likely to click on your ads.
Once you're familiar with the auction systems for PPC ads, it's time to look at the different PPC ads you can utilize.
Types of PPC Ads:
Picking the correct type of paid search ad can determine your campaign's success. There are many options to choose from, each offering different options and features that can help you reach your conversion goals.
Here are some of the most popular types of PPC ads:
Search ads
Display Ads
Local Ads
Google Shopping Ads
Remarketing Ads
Youtube Ads
Gmail Promotion Ads
Social Ads
Search Ads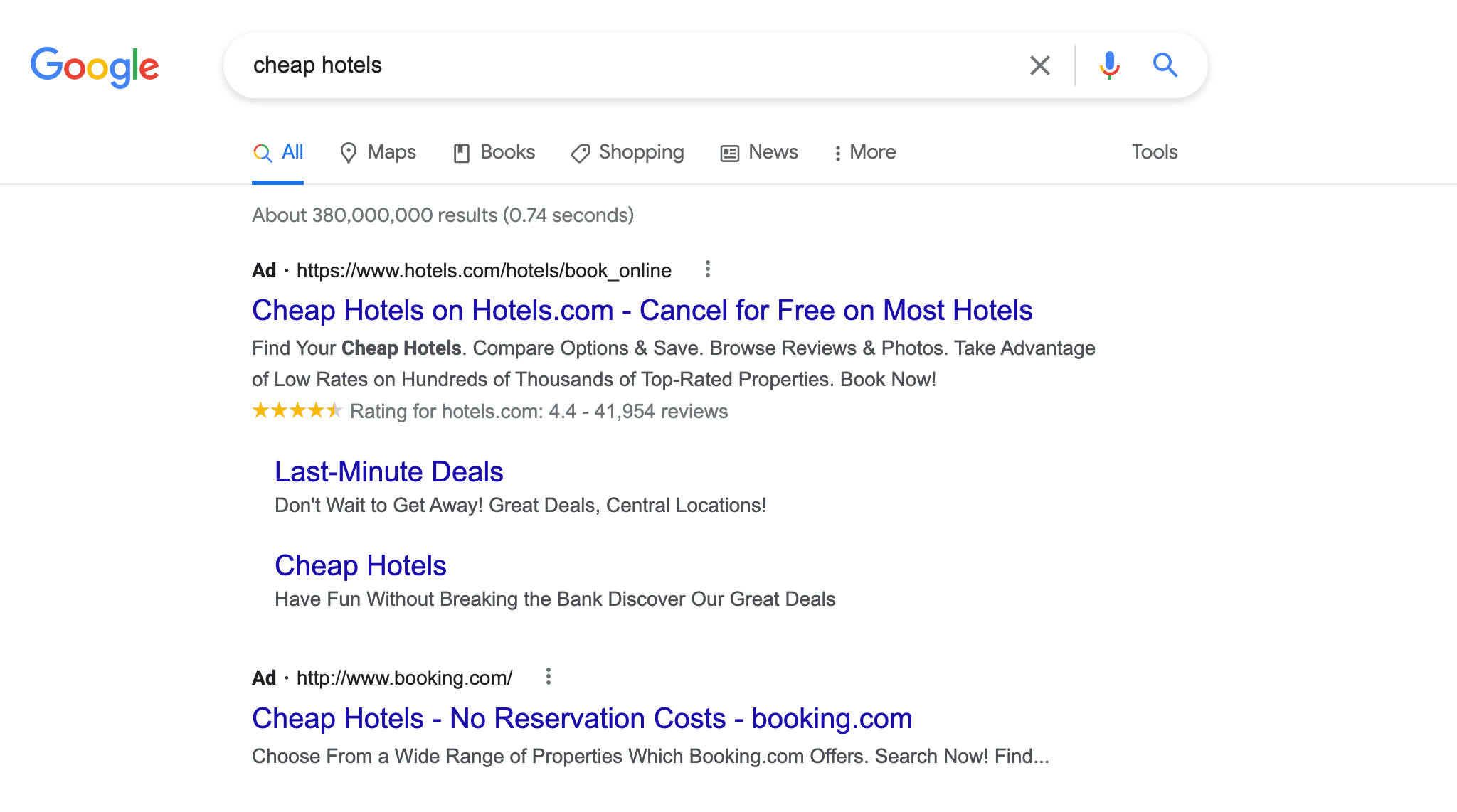 Search ads are some of the most common and simple forms of online advertising that search engines offer. Their design mimics organic Google search results and appears on top of SERPs.
Notice how the only significant distinction between search results and search ads is a small "ad" tag on the top left. Users often confuse these ads for high-ranking search results, which helps advertisers capture users who typically ignore landing pages.
You need to take a few pages from the SEO playbook to create ads that work. You want your search ads to mimic top-ranking organic search engine results while utilizing features that can enhance your ad's appearance. Make sure you use engaging ad copy with relevant keywords to help your ad succeed!
Importance of Keywords in Search Ads
Your ads must appear in relevant searches when you pick and bid on the right keywords.
You should use the same long-tailed keywords that you would use to rank an organic listing to ensure that your ad isn't too broad. Doing so should keep your cost-per-click low and your conversion rates high.
You can also use negative keywords to your advantage. When you add negative keywords irrelevant to your search ad campaign, you can save clicks because your ad will not appear for an unrelated search. Using negative keywords will save you money throughout your campaign!
As long as you understand the elements that contribute to an effective on-page SEO strategy, you should be able to apply these techniques to create some effective search advertisements.
Display Ads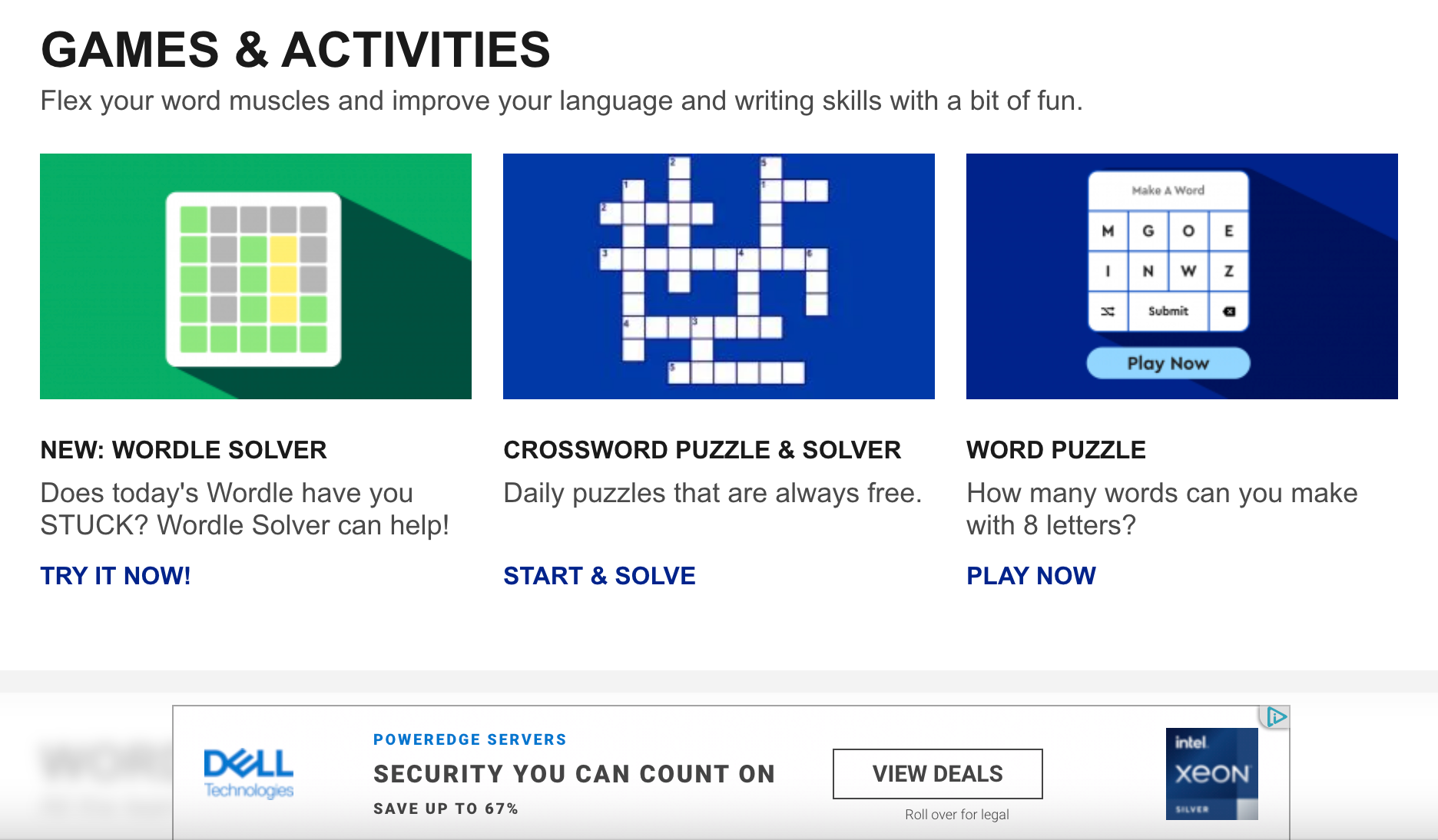 If you've ever used the internet, there's a good chance you came across a display ad. Display ads on The Google Display Network reach 90% of Internet users worldwide.
Display advertisements are all image-based ads found on websites, browsers, and some of Google's properties. They are the internet equivalent of a poster advertisement. Digital marketing specialists and businesses use display ads to reach their target audience, the group of people who might be interested in their product or service.
Pros and Cons of Display Advertising
There are a few distinct pros and cons to using display ads. Google ads allow advertisers to take advantage of image-based advertising. Text ads lack the emotional response that comes from images and animations.
Google also provides advertisers with targeting tools to help position display ads on an optimized collection of websites. These tools increase efficiency and effectiveness, leading to more user clicks and conversions.
While display ads can work well, a few things are holding them back. Like paid social ads, display ads lack the purchasing intent that keyword-based advertising uses. Google's display marketing tools help counteract this disadvantage.
How to Create Google Display Ads
Google provides multiple options to create effective display ads.
You can manually design and upload your advertisements to the Google Display Network. This option is best suited for large businesses that already have a vast collection of digital assets and the personnel to handle optimizing advertisements.
You could also use Google's responsive ads that handle nearly all the PPC marketing tasks. Google's algorithms will create multiple sets of display ads to test on their network by simply uploading your digital assets and answering a few questions. This algorithm can collect data over time to optimize these advertisements' size, layout, and location.
Before starting your next advertising campaign, check out more information about display ads on the Google Display Network. Display network campaigns "…help you reach people as they browse millions of websites, apps, and Google-owned properties (such as YouTube and Gmail)", according to Google.
Local Ads

Regular search and display ads work great for businesses that can take advantage of an international scale. But what about local businesses?
Local service ads are the best solution for local businesses wishing to increase business within their area. This ad type is especially effective for services that can only travel a certain distance to provide their products or services.
Best Businesses for Local Search Ads
Plumbers
Lawn care services
Garage door companies
Electricians
Locksmiths
A landscaping company in PA will not appreciate leads coming from the west coast. Local service ads filter your advertisements to answer local search queries only.
Local SEO strategies often pair nicely with local service ads.
They are far more hands-off compared to regular search advertisements. Google handles time-consuming tasks like keyword research and advertisement testing for you.
Here's the best part about local search ads. Local ads are pay-per-lead instead of pay-per-click. Depending on your industry, you can expect to pay anywhere around $6-$30 per lead. While it may sound expensive, most cost-per-click costs come from users who click but fail to convert.
The cost-per-lead payment system assures local businesses that their advertising budget can expand their client base. Google even offers a disputing process to get money back on scams, spam, or other useless leads.
Google Shopping Ads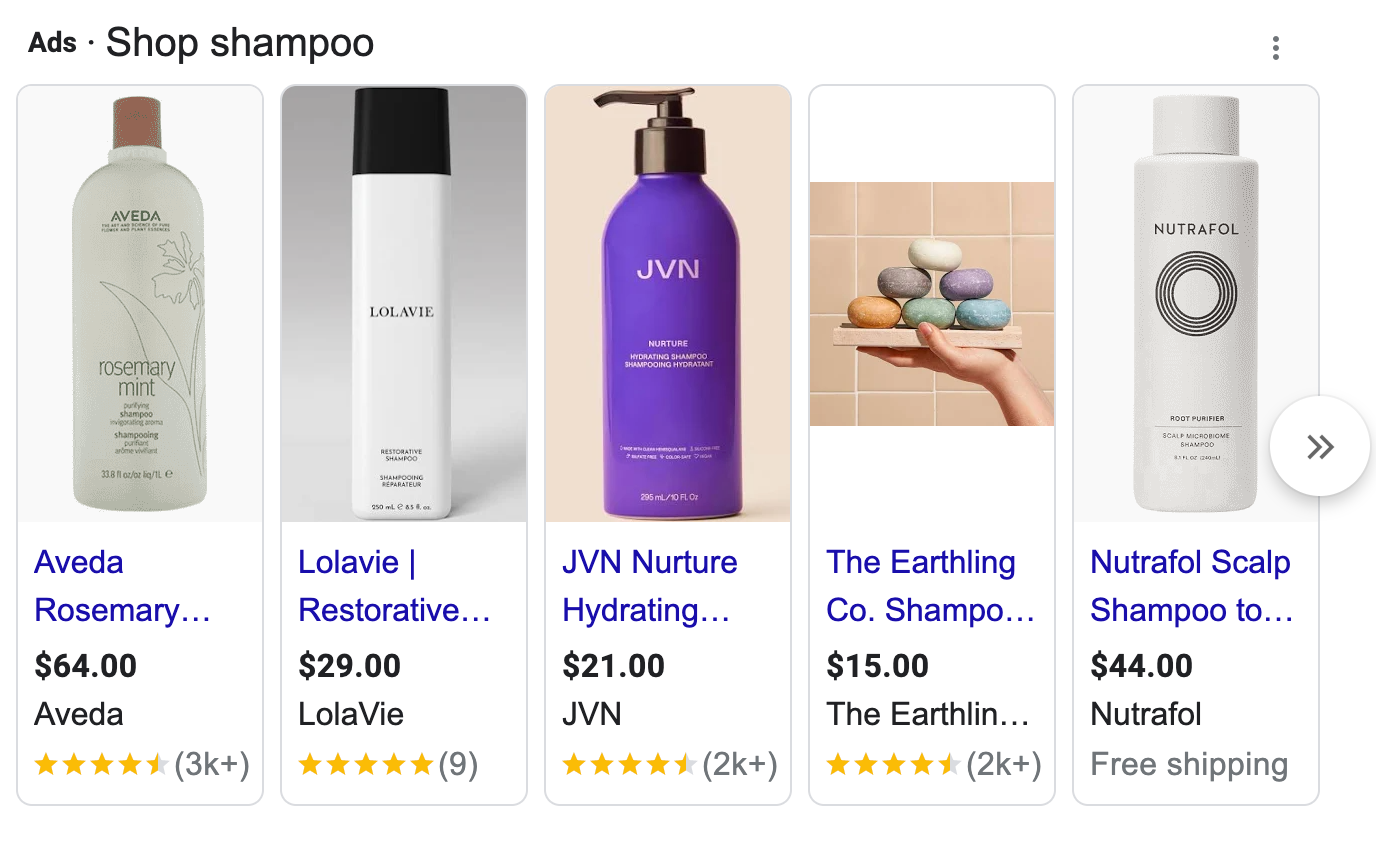 Similar to local ads, Google shopping ads offer unique value for advertisers with higher click and ROI percentages. These shopping campaigns work best for transaction-focused companies that sell tangible products instead of services.
A Google Shopping campaign offers a lot of value for several reasons. First, shopping ads often show up in two different places. You may find these online ads on the very top of regular SERPs. Depending on the keyword, some shopping ads replace typical search ads.
They also show up on Google's dedicated shopping page. Paid shopping ads appear on the top of the page for specific keywords, similar to how search ads appear at the top of SERPs.
Just as you would optimize your websites for SEO, you should also optimize your shopping listings. Optimized listings reflect a higher organic listing in Google's search engine. Google gives you the option to create free listings for their shopping page. While these may not appear like shopping ads on the search results page, they can help supplement a long-term SEO strategy.
Here's more information about how to create a perfect Google Shopping ad.
Remarketing Ads

Remarketing ads are a so-called "second chance" to engage with your audience and get them to convert. This online advertising model is based on the concept that not everyone who visits your website will convert the first time. While they might have clicked through your site or learned about your product, many people leave a website without converting because they are not ready to make a purchasing decision at that moment in time.
Win Back Your Customers with Remarketing Ads
Instead of completely losing potential customers or leads, dynamic remarketing ads target people who have already interacted with your website and serve them your ads on other pages to remind them of you. They can click on your ad and arrive at your landing page when they're ready to convert
By only targeting customers who expressed initial interest in your products, you can use these ads to increase click-through rates and reduce cost-per-click significantly.
How to Set Up Remarketing Ads
Remarketing ads utilize Google's remarketing code. This code is referred to as a tracking pixel in PPC marketing terms. If you have a Google Ads account, you can add the pixel to your ad campaign. The pixel will track the other pages where your website visitors go and place them into lists. You can segment your remarketing campaigns based on these lists and ensure they see certain ads for specific products or services you offer.
The more they see relevant ads they are interested in, the more likely they will engage with your ads and convert.
YouTube Ads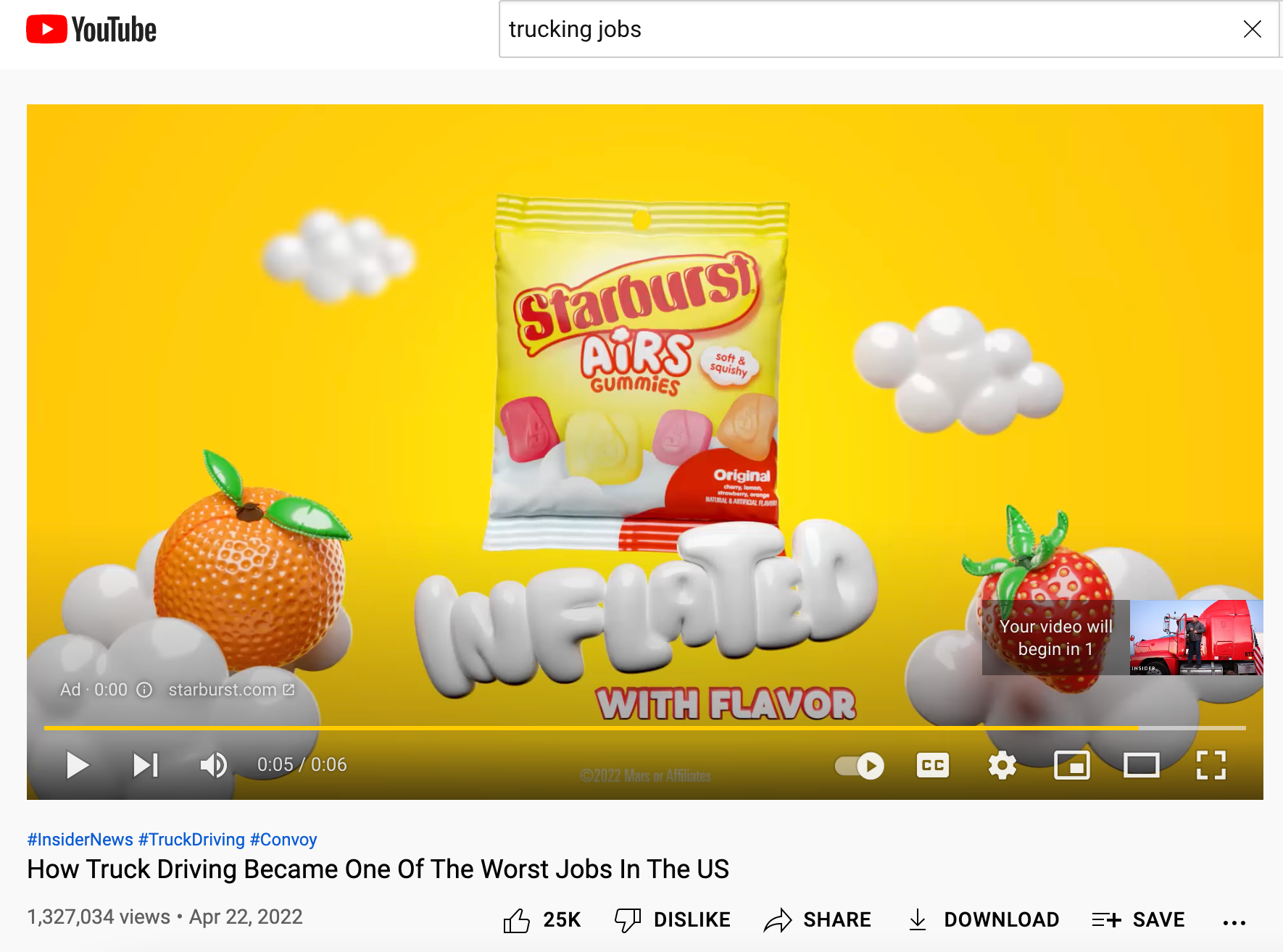 YouTube ads appear before or during a Youtube video. There are several types of YouTube ads, including skippable ads, non-skippable ads, full-screen ads, or sidebar ads. Of the most popular platforms for PPC advertising, YouTube ads are a frontrunner. This is because 63% of internet users watch YouTUbe regularly.
YouTube ads target people who recently searched for a particular product or service. Google will serve that person with video ads related to the product on YouTube. You can choose your daily ad spend budget and decide what networks you want your video ad to appear on.
Types of YouTube ads
Skippable Instream
Non-skippable instream
Bumpers
Banner Ads
Video Search Ads
YouTube is the second most used platform out of all search engines. Click here to get started making your own YouTube ads today!
Discovery Ads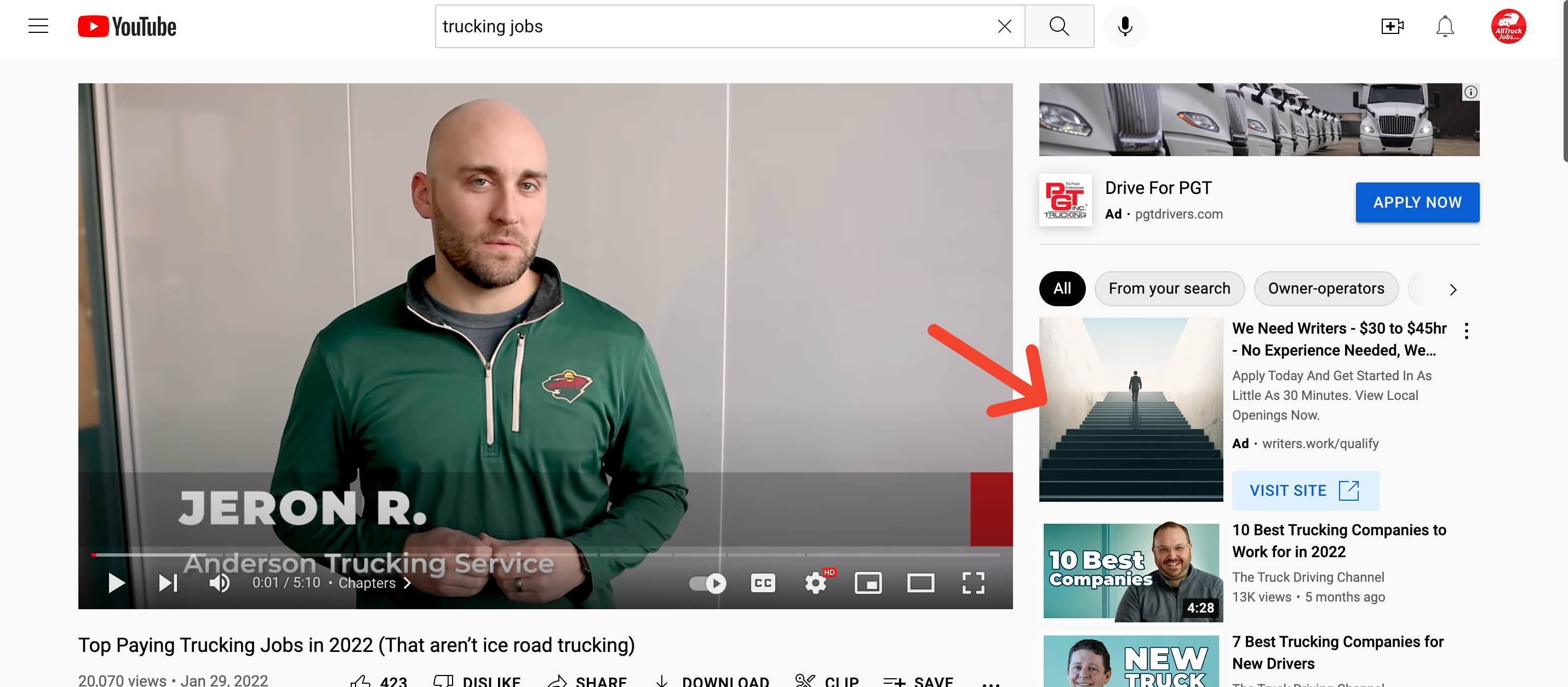 According to HubSpot, "Google Discovery ads are visually engaging, personalized ads that appear in Google's feeds on the YouTube app, the Google app, and the Gmail app." These ads help convert by serving ads when the target audience is likely to discover a new product or service. Google utilized machine learning to understand customer intent signals that pick up on this timing.
Discovery ads help businesses reach new customers, connect with previous customers, and increase conversions.
Social Ads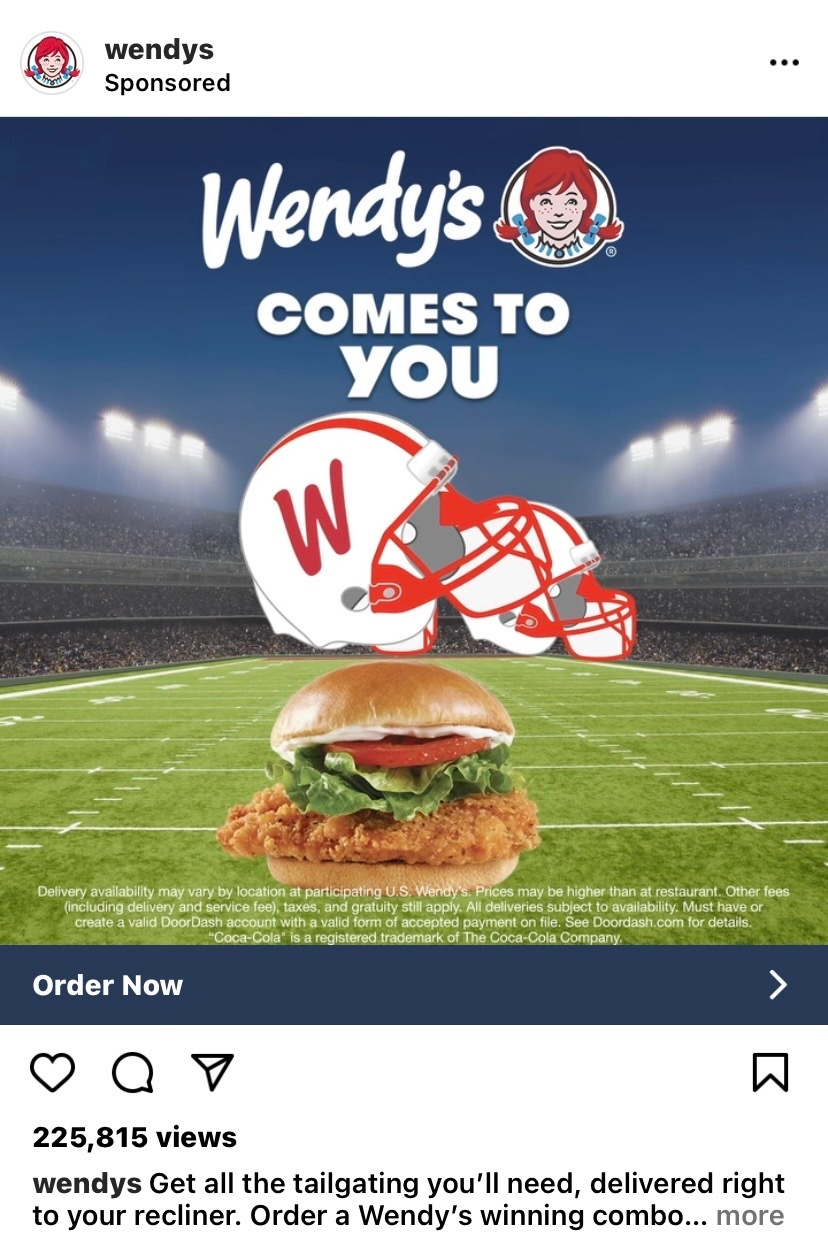 It's challenging to rank well in search engines, no matter how robust your SEO strategy is. If you're ready to reach a targeted audience quickly, it's time to employ the power of social ads.
Depending on your target audience, you'll want to advertise on different social media platforms. For example, LinkedIn might be your best bet if you're selling software for HR departments. If you're a clothing brand selling back-to-school clothes for teens, TikTok could be your best friend. Make sure to pick the platform your target audience wants to engage with so you don't lose money.
There are countless social media platforms where you can run social ads, some of the most popular being Facebook, Instagram, Pinterest, TikTok, and LinkedIn,
Types of Social Media Ads
Video Ads
Image Ads
Carousel Ads
Story Ads
Collection Ads
Develop Your PPC Strategy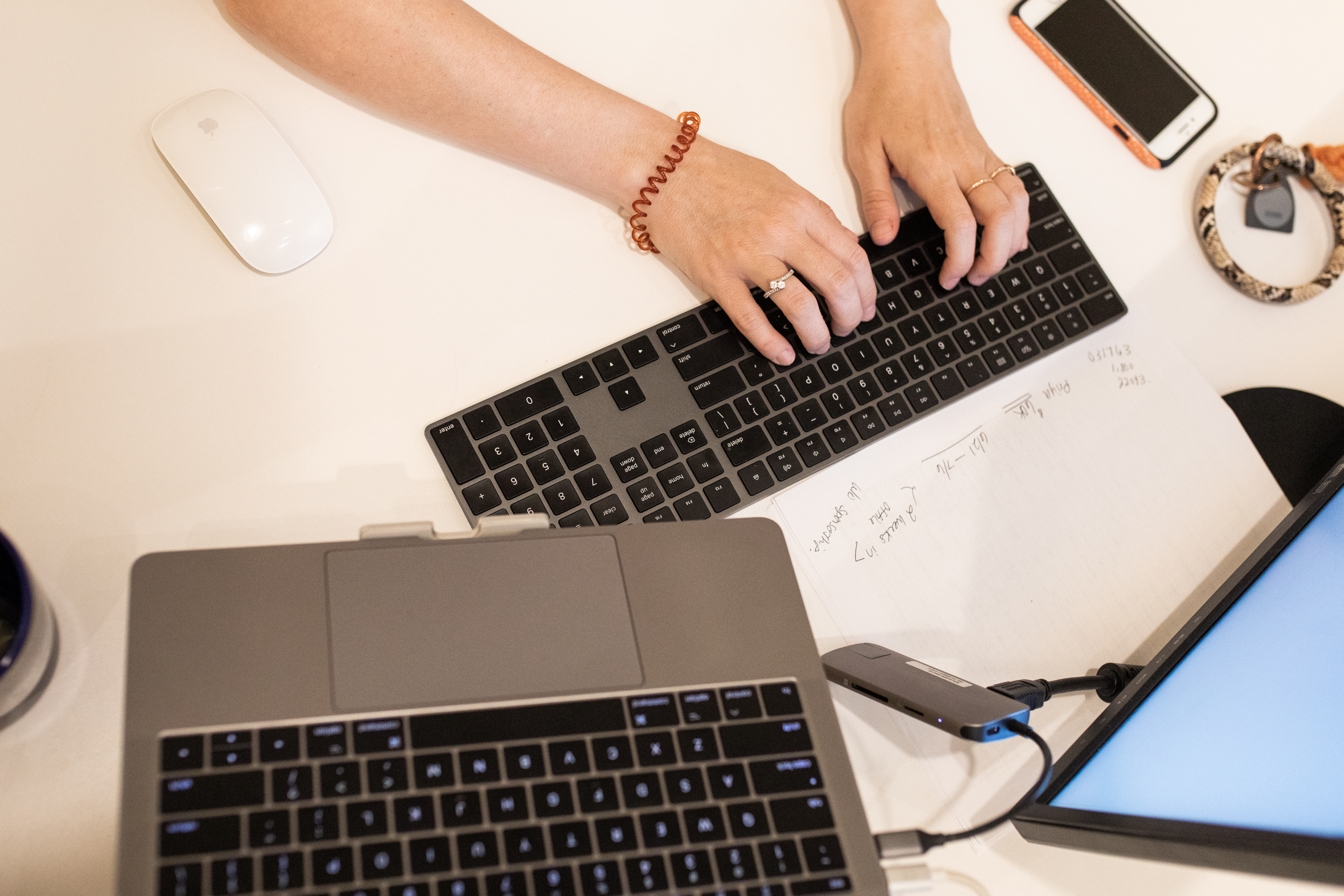 PPC ads are a great way to increase conversions, boost sales, and grow your brand awareness, among other benefits. A successful PPC marketing campaign can help you reach your target audience and help take your business to the next level.
It would be nice if you could run successful Google ads with a touch of a button, but this isn't the case.
PPC campaigns require a lot of moving parts. Between managing your ad spend, monitoring Google analytics, ensuring that your ads show up for the correct search term, and creating great landing pages, PPC advertising can get overwhelming.
PPC Marketing Experts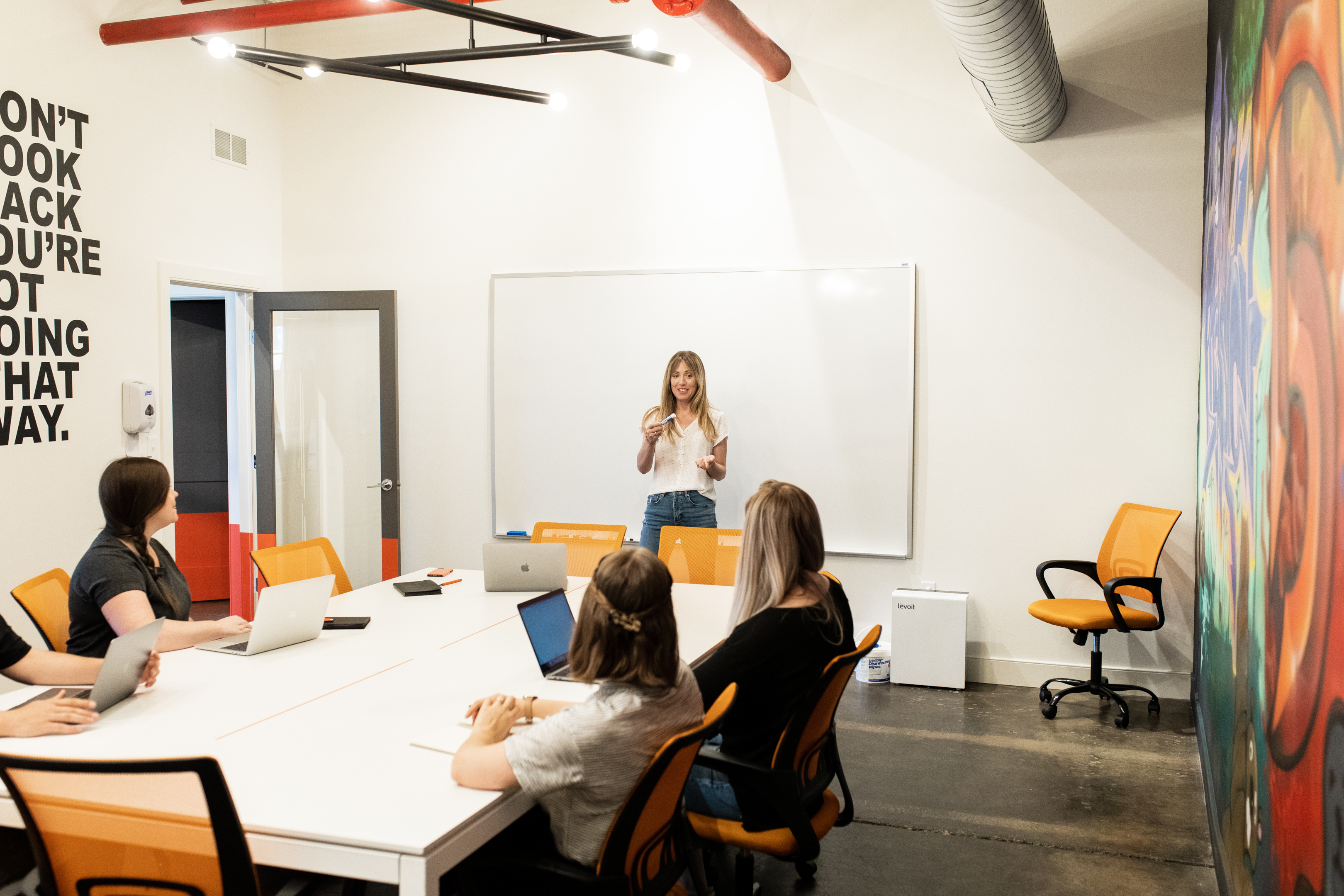 Don't miss out on a successful PPC strategy by enlisting the help of a trusted digital marketing agency. The team of paid search experts at Trusted Search Marketing has decades of experience optimizing ad campaigns for clients in various verticals, decreasing their cost per click and increasing their conversions.
Contact Trusted Search Marketing today if you're ready to create a winning PPC campaign. We'll help you determine the best ad platforms for the best results.